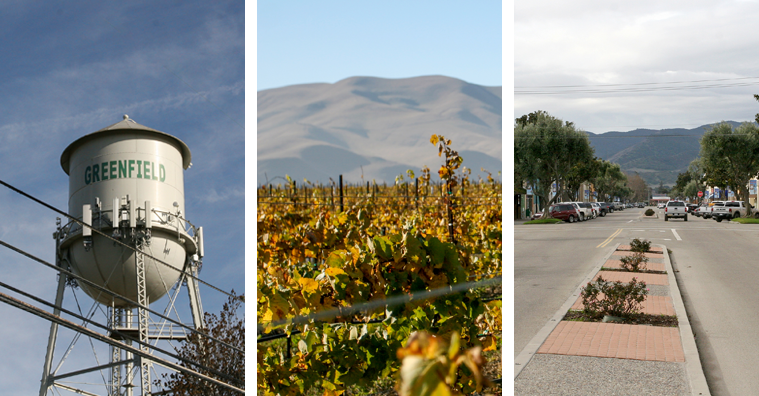 Discover country living in Greenfield and King City
Small town living is the first choice for many people. Yet, we all want to be close to services, shopping, activities and other conveniences that enhance our quality of life. There's a real sense of community here in South Monterey County. It's a place where you can get to know your neighbors, local merchants and those who staff your favorite spots. A place where you can run into people you know at restaurants, the library, shopping centers, farmer's markets and community events. And you're in the midst of nature's beauty and bounty, surrounded by fertile agricultural fields and vineyards, a variety of parks, historic landmarks, majestic mountain ranges and wonders like Pinnacles National Park.
The long-established communities of Greenfield and King City are vibrant and rich with activities for the whole family that harken of yesteryear. Holiday parades, fireworks and festivities, 4H clubs, Little League, picturesque picnic and gathering spots, and a warm, welcoming sense that lets you know you've found home.
King City is home to the Salinas Valley Fairgrounds and annual Salinas Valley Fair. The community also hosts a number of public events, including a weekly Farmer's Market and annual Christmas and 4th of July parades. It is also home to Mee Memorial Healthcare System, a municipal airport, a golf course, a community college satellite campus, performing arts center, a campground, and a variety of local parks and sports facilities.
The Greenfield area is home to some of Monterey County's most prized wineries, well-equipped parks, youth and adult summer activities, holiday parades, fireworks and community events that bring people together to celebrate the seasons, and library programs that delight children of all ages.
Drive on down for a visit, take a walk through town, plan to attend a community event and see for yourself what good old-fashioned country living is all about.
Resources
ci.greenfield.ca.us
facebook.com/GreenfieldLL (Little League)
facebook.com/soledadchamber (covers Greenfield)
Kingcity.com
Kingcitychamber.com
seemonterey.com

© Nino Development Inc. All Rights Reserved.
Renderings are artist's conceptions. Actual homes may vary. Square footage listed is approximate.
Builder reserves the right to make any changes deemed necessary.