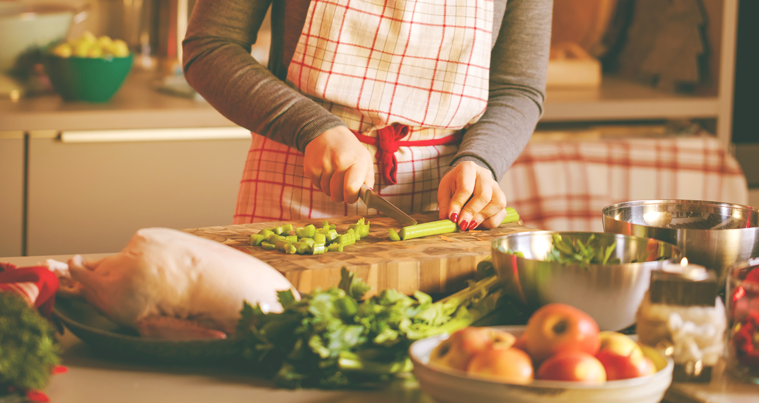 Favorite Holiday Recipes From the Nino Homes Team
Make your holidays special by trying something new. We've gathered a few recipes from members of our team that we hope you and your family will enjoy. Tis the season.
THANKSGIVING BREAKFAST CASSEROLE
From The Mendonsa Family
 If we ever have a free Saturday morning, we let Dad sleep in, and the girls and I enjoy a cozy morning watching cooking shows. We found this recipe from Lee Drummond a few years ago and it has become our Christmas morning tradition. We prep it all before Christmas Eve mass and it is ready to bake when we wake up. It is the perfect sweet and savory treat to accompany the Swedish pancakes and berries that Nana brings over. And the aroma of fresh sage, sausage and onions is amazing. Melissa
Ingredients
2 pounds sage sausage
2 Granny Smith apples
1 large yellow onion
1 tablespoon chopped fresh sage
12 large eggs
2 cups whole milk
½ cup half-and-half
Kosher salt and ground pepper
Salted butter
6 cinnamon raisin English muffins cut into bite size chunks
2 ½ grated white cheddar
2 tablespoons chopped fresh parsley
Directions
Brown the sausage in large skillet until cooked through, 7-9 minutes. Remove sausage and drain on a paper towel. Without cleaning the skillet, add apples, onion, and sage. Cook until onion has softened, 2-3 minutes. Remove from pan and set aside.
Mix eggs, milk, and half-and-half in large bowl. Season with salt and pepper.
Grease 13×9 casserole dish with butter. Layer ½ English muffins, half sausage, half apple/ onion mixture, and half cheese. Repeat layers ending with cheese. Pour egg mixture over top. Cover and refrigerate overnight.
Remove from refrigerator 20-30 minutes before baking. Preheat oven to 350 degrees F
Bake covered for 35-40 minutes, then remove foil and bake until top is golden and crispy, 10-15 minutes more
Sprinkle with chopped parsley & enjoy!
GREEN BEAN SUPREME
From The Dobbs Family
Prep time: 15 minutes 
Cook time: 45 minutes
Ready in 1 hour
Ingredients
2 cups chopped fresh green beans
1 onion, finely diced
2 tablespoons butter
1 teaspoon salt
2 teaspoons soy sauce
1/8 teaspoon hot pepper sauce
2 tablespoons Worcestershire sauce
1 (10.75 ounce) can condensed cream of mushroom soup
1 (5 ounce) can sliced water chestnuts, drained
12 ounces shredded sharp cheddar cheese
1 (2.8 ounce) can French-fried onion rings
Directions
Steam beans over a pot of boiling water until tender but still firm. Rinse under cold water to cool
Preheat oven to 350 degrees
In a large skillet over medium heat, melt butter and sauté onions. Add salt, soy sauce, hot pepper sauce, Worcestershire sauce and mushroom soup; mix well.
In a small casserole dish, layer half the beans, chestnuts, cheese, and soup mixture. Repeat layer.
Bake at 350 degrees for about 30 mins or until hot and bubbly. Top with onions and heat 10 minutes longer.
HEALTHY SWEET POTATO CASSEROLE
From The Dobbs Family
Prep time: 10
Cook time: 30 minutes
Roasting Sweet Potatoes: 1 hour
Total time: 1 hour 40 minutes
Ingredients
2 lbs. sweet potatoes
3 tablespoons coconut oil or butter, Earth balance, or ghee, melted
1 cup unsweetened apple sauce
2 teaspoons ground cinnamon
1 teaspoon sea salt or to taste
Pinch of ground nutmeg
1 cup chopped pecans- roasted first
Extra salt and cinnamon/ sugar for topping (optional)
Directions
Preheat oven to 450 degrees
Wrap sweet potatoes in aluminum foil and bake in preheated oven until soft (about 1-1.5 hours)
Remove from oven, cut in half, and let cool
Remove skins and set sweet potatoes aside
Reduce oven temperate to 375 degrees
Add apple sauce and sweet potatoes to your blender and blend until smooth
Add melted coconut oil (butter/ earth balance/ ghee) cinnamon, salt and nutmeg and blend until combined
Transfer to a 9" baking dish and sprinkle the top with pecans and optional topping
Bake at 375 for 25-30 minutes until potatoes begin to slightly bubble and topping is lightly browned
Let cool for 10 minutes before serving
Notes: You can easily make this dish ahead of time by baking the dish completely, let cool and store, loosely covered in plastic wrap, in the refrigerator. Then reheat at 300 degrees until warmed through.
SNOWY MASHED POTATO CASSEROLE
From The Nino Family
This recipe came from my Grandma Bert from Canada and has been used many times by our large family at holiday gatherings. Makes a delicious,fluffy side dish for either Thanksgiving or Christmas. Tracy
Bake at 350 for 30 minutes
Makes 12 to 15 servings
Ingredients
4 pounds potatoes
1 pkg. 8 oz. cream cheese, softened
1 c. sour cream
2 tsp. salt
1 tbsp. butter
1/8 tsp. pepper
1 clove garlic, crushed
1/4 c. chopped chives
1/2 tsp. paprika
Directions
Wash then cook potatoes in boiling water 15 minutes or until tender, then drain. Mash potatoes in large bowl.  Using electric mixer; add the cream cheese, sour cream, salt, pepper, and garlic. Beat at high speed until very light and smooth. Stir in chopped chives. Spoon into lightly greased baking dish. Sprinkle with paprika. Dot with butter. Bake at 350 for 30 minutes, or until lightly golden and heated throughout.
PUMPKIN ROLL
From The Pape Family
Cake Ingredients:            
3 eggs
2/3 cup canned pumpkin
1 cup sugar
1 teaspoon baking soda
½ teaspoon cinnamon
¾ cup flower
Filling Ingredients: 
2 tablespoons soft butter
8 ounces softened cream cheese
¾ tablespoons vanilla a
1 cup powdered sugar
Chopped nuts
*Additional Powdered sugar needed.
Directions
Mix cake ingredients; pour into a rimmed, greased cookie sheet (10" x 15").
Bake at 325 for 15 minutes.
Sift ½ cup powdered sugar on a dishtowel; place cake on towel and roll up in towel.  Let cool.
Mix filling. When cake has cooled unroll, spread with filling, and roll back up. 
 Slice to serve.
This is a great potluck recipe – I made it for a harvest potluck and after the first year it was requested that we make it every year! Lois
SEVEN LAYER DREAM BARS
From Brittany Frick
Ingredients:
1 stick of butter
1 ½ cups graham cracker crumbs
1 can sweet and condensed milk
12-18 ounces milk chocolate chips
7 ounces coconut flakes
6 chopped walnuts
Directions:
Add melted butter into a 9×13 pan and add graham cracker crumbs
Pat to make a crust and line the whole pan
Start your layers
Add chocolate chips first, then coconut flakes, sweet and condensed milk, and chopped walnuts
Start over and add all the layers until the pan is full
Bake at 350 degrees for 25-30 minutes
Let sit in refrigerator for a few hours to harden before serving
I grew up making this with my Mom on a cold winter day with Christmas music playing. We would make these dream bars, fudge, and Christmas cookies to put in a container and bring to our neighbors, family and friends as a Holiday treat. Brittany

© Nino Development Inc. All Rights Reserved.
Renderings are artist's conceptions. Actual homes may vary. Square footage listed is approximate.
Builder reserves the right to make any changes deemed necessary.