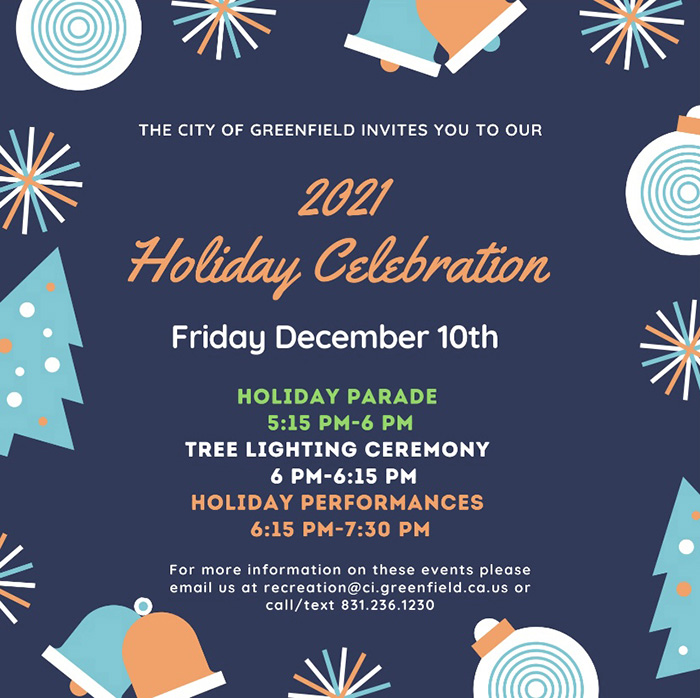 Holiday Festivities
This holiday season, local communities are alive with the twinkle of lights, the sounds of Christmas music and activities for the whole family.
Here are a few highlights of activities in South County communities.
Saturday, December 4 — 36th Annual Soledad Parade of Lights. Festivities start at 2:00 p.m. and continue after the parade in Cesar Chavez Park with kid's games and an appearance by Santa. Starting at 5:00, the parade forms near California Gourmet Pizza and proceeds for a few blocks down Front Street. Participants will ride in Christmas-themed floats, decorated cars or trucks, on horses, or walk in groups promoting their organization or school activities. Sponsored by the Soledad-Mission & Greenfield Chamber of Commerce.
Friday, December 10 — City of Greenfield's 2021 Holiday Celebration features a parade 5:15 to 6:00 p.m. Tree lighting ceremony 6:00 to 6:15 p.m. and holiday performances 6:15 to 7:30 p.m. For more information, send an email to recreation@ci.greenfield.ca.us or call/text to 831-236-1230.
Friday – Sunday, December 10, 11 and 12 — The Monterey County Dance Foundation and the Monterey County Dance Theatre invite you to join us for some holiday magic at the 62nd Annual Nutcracker Ballet! This beautiful holiday tradition will take place at the historic Robert Stanton Theatre in King City. Performances are Friday December 10, 7:30 p.m., Saturday December 11, 7:30 p.m. and Sunday December 12, 2:30p.m. Ages 4 and older. Social distancing and masks required. Tickets are $15 and can be purchased from any Monterey County Dance Theater dancer or by contacting Monterey County Dance Theater or Monterey County Dance Foundation via Facebook Messenger.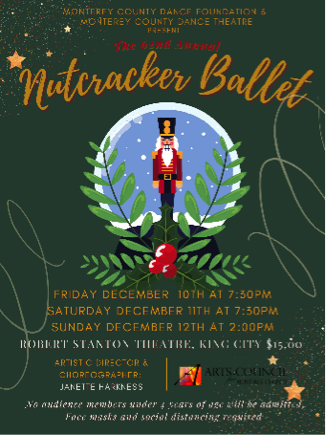 Friday, December 17 —King City Chamber of Commerce 22nd Annual Lighted Christmas Parade. Parade starts at the Salinas Valley Fairgrounds, heads up Mildred to Broadway St., turns East on Broadway and ends at the King City Town Square. Featuring vehicles of all types. Enjoy Santa, vendor booths and music at the Square. Entry forms for participation are available at the Chamber office, 200 Broadway, Suite B, or by email to kcchambermanager@kingcitychamber.com

© Nino Development Inc. All Rights Reserved.
Renderings are artist's conceptions. Actual homes may vary. Square footage listed is approximate.
Builder reserves the right to make any changes deemed necessary.